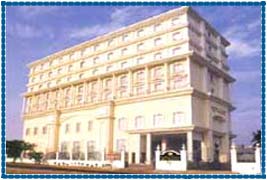 Ratings: 3 Star
Address:
No 79, 100 ft. Road, Vadapalani,
Chennai - 600 026, India.
Accessibility:
9 Kms. from Airport, 10 Kms. from Railway Station.
Locational Advantages:
Hotel Ambica Empire is close to Chennai trade centre, Industrial Areas and 15 minutes to the Airport.
Hotel Description:
Ambica Empire hotel belongs to the world famous hotel chain of Best Western Group of Hotels. A leading economy class hotel in Chennai every ammenity and comfort is at the foot step of the guests while they stay in the hotel. The warm hospitality, services, and facilities come together to make Ambica Empire Best Western hotel a preferred accommodation option in Chennai for the budget buisness travelers and tourists.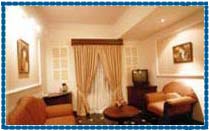 Accommodation at Hotel Ambica Empire, Chennai:
Hotel provides guests with the opportunity to stay in 100 rooms that have walls that are adorned by the paintings to fulfill the need of relaxation. Pad across the plush carpet to the bathroom where a long soak in a hot bathtub awaits you at the end of a hard day. And when you emerge, avail of our 24-hour room service.
Amenities & Services at Hotel Ambica Empire, Chennai:
Free Newspaper, Free Parking, Children Under-12 Free, Round The Clock Room Service, Automatic T.V. That Can Be Turned Mute On Request, Internet Facility In Rooms, Fitness Center, Coffee Shop, Restaurant, 24-Hour Room Service, Cocktail Lounge with Live Entertainment, Free Full Breakfast Buffet, Free Newspaper, Free Parking, Children under 12 Free, Baby-Sitting Service Available, Laundry/Dry Cleaning Services, Hot Tub, Concierge, Catering Staff, Business Center, Meeting Rooms, Secretarial Service Available, Conference Service Staff Available, Fax/Photocopy Service, Multilingual Staff, Accessible Public Areas for Physically Challenged, Safe Deposit Box, Rollaway Beds Available, Doctor on Call, 24-hour Security, Foreign Currency Exchange, Car Rental Available, Travel Agency Available, Baby Sitting, Bar, Business Centre, Hairdresser.