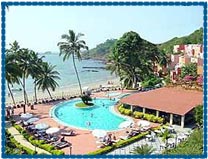 Ratings: 5 Star Deluxe
Address:
Vainguinim Beach, Goa-403 004.
Accessibility:
26 Kms. from Airport, 30 Kms. from Railway Station.
Locational Advantage:
Hotel Cidade De Goa, Goa is situated on the beach and is close to the major attractions of Goa and the Panjim city.
Hotel Description:
Cidade de Goa resort is located on Vainguinim Beach located between a green hill and the deep blue sea provideing the sort of setting that is capable turn even the most ordinary person romantic. The resort is spread over a lush green 40 acres of landscaped garden. The resort is built in a portuguese style of architecture the style of the hotel resembles with that of the Portuguese hill hamlet. The resort's unique architectural design have already earned an international R.I.B.A. award.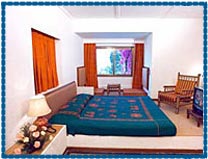 Accommodation at Hotel Cidade De Goa:
A total of 210 rooms and suites that are offerd by the hotel are all very magnificiently designed and decorated to provide a wonderful experience to the guests. The rooms that are offered by the hotel have been categorized into following categories:
Casa Rooms:
These rooms are one of the best in the business these rooms are loaded with best of amenities and provide a pleasent stay at the hotel.
Damao-Rooms:
These rooms are designed in ancient Goan style of design. Most of these rooms are decorated with terracotta, mirror-work, and straw mats, highlighting the influence of Daman (another Portuguese colony) on Goa, hence the word - Damao.
Suites:
The suites in the hotel are something that will make the other hotels sweat as the suites are faboulusly decorated. These suites welcome the guests to the world of luxury offered by Cidade De Goa.