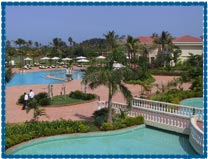 Ratings: 5 Star Deluxe
Address:
Varca Beach, Goa-560 001.
Accessibility:
33 Kms. from Airport, 12 Kms. from Railway Station.
Locational Advantage:
Hotel Radisson White Sands Resort, Goa is situated on Varca beach and is located just 20 minutes from Margao the commerical hub of Goa.
Hotel Description:
Hotel Radisson White Sands Resort, Goa offers its guests with one of the longest stretch of beaches in Goa and world. Hotel offers the kind of warm hospitality that invites the guests to the resort and offers atmosphere and topnotch services that are sure to please business and leisure travelers alike.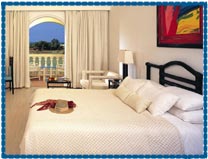 Accommodation at Radisson White Sands Resort, Goa:
Hotel offers a total of 154 rooms that also includes 4 suites. All the rooms that are offered by the hotel are one of its kinds with the best of luxuries have been put into each rooms and suite at the hotel. The rooms are well serviced by the hotel staff that have been well trained to service to every need of the guests.
Amenities & Services at Radisson White Sands Resort, Goa:
Steam rooms and Jacuzzi, Spa service 'Ayurueda' Clinic available for treatments and massages, 2 Restaurants, Waterfalls Cafe and a specialty restaurant 'Flavours' located in the hotel comple. 'Dhow' snack bar is located on the beach offering snack menu during the day and BBQ for dinner. Room service is available 24 hours, Table tennis, video games, 196 metres out door pool open all year round, The health club 'Ship Shape' feature; Multi Gym, Treadmil, Rowing Machines, Free weights, Saunas Separate for men & women.