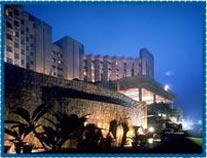 Ratings: 5 Star Deluxe
Address:
Bhikaji Cama Place, Ring Road,City New Delhi-110 066, India.
Accessibility:
15 kms. from International Airport; 10 kms. from Railway Station;10 kms. from Bus Stand
Locational Advantages:
Business District & Diplomatic Enclave
Hotel Description:
Architecturally inspired by the Golden Gupta period, is in one of the capital's most exclusive residential, diplomatic and commercial districts. Hyatt Regency Delhi brings that distinguish 'Hyatt touch' to the capital city of Delhi. Hyatt Regency offers travelers a new level of luxury with the distinctive Hyatt Touch that is renowned the world over. Visitors and travelers alike are welcome into the hotel's warm interiors, where they are surrounded by handpicked, traditional, works of art; precious local artifacts; tasteful furnishings; all coupled with the excellent services from staff who care. In the heart of New Delhi, one of the cities representing the ancient civilization of India,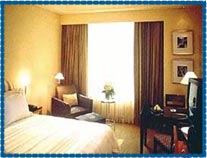 Accommodation at Hotel Hyatt Regency, New Delhi:
Hyatt Regency Delhi has 508 guest rooms that are tastefully decorated. The guest rooms at Hyatt Regency New Delhi have been divided into Presidential Suites, Executive Suites, Regency Deluxe Suites and Terrace Suites.As well as the Regency Club rooms, the Pool-facing rooms and the Hyatt guest rooms at the Hyatt Regency Hotel.
Regency Club
Location:
6th & 7th floor
Regency Deluxe Suite
A luxurious two bay suite with a bedroom and a sitting room with attached bathrooms in both. These suites are located on the exclusive Regency Club floors.
Regency Club amenities:
Individual climate control, Minibar, Continental breakfast, 24 hour concierge, All day beverage service, Evening cocktails and hors d'oeuvre, Business and meeting facilities, Bathroom with bath tub, shower and toilet, Dual 220 volt electric outlet, Colour TV, Multichannel music, Direct dial telephone, Voice-mail system
Suites
Type of Suites:
Junior Suite (varies from pool view, garden view and city view)
The features are a sitting room, special writing table, additional bathroom without a shower tub, second TV with a VCR (video recorder) and CD player.
Terrace Suite (varies from pool view, garden view and city view)
A richly furnished two bay suite with a bedroom and sitting room with bathrooms in both. The special feature here is the large terrace attached to these suites with chaises longues and a sitting area with outdoor umbrellas.
Executive Suite (city view)
Ideal for a larger family or for a long stay trip. It has a very large sitting room, dressing room, bathroom with a shower compartment and a shower tub.
Amenities:
Colour television, Minibar, In-house video, Jacuzzi, Sauna, Modem and fax facility also available, In-room safe
Duplex Suites
Presidential Suite
An opulent duplex suite. Two levels of sheer elegance with large sitting and dining areas on the lower level. These suites have one master bedroom and one side bedroom. The suite also has a well-equipped kitchenette and a terrace lounge.
Suite Amenities:
Individual climate control, Minibar, Writing table, Master bedroom, Sitting area, Dining area, Kitchenette, Terrace lounge, Bathroom with tub, shower and toilet, Additional bathroom with tub and toilet, Dual 220 volts electric outlet, Two colour TVs, Video recorder, CD player, Direct dial telephone, Voice-mail system, Modem and fax facility also available (on request)
Amenities at Hotel Hyatt Regency, New Delhi:
Front Desk, Beauty Parlour,Travel Desk, Barber shop, Sauna, Jacuzzi, Swimming Pool, Health Club, Tennis, Courier service, Free Newspaper, Parking, Bar, Banquet, Restaurant, Safe Deposit Box, Conference Facilities, Business Centre, Pastry Shop, Flower Shop, Separate Executive Floor, Executive Lounge, 24 hrs. Cafe
Services at Hotel Hyatt Regency, New Delhi:
Doctor on Call, Laundry, Banking, Safe Deposit, Baby Sitting, Valet, Travel Desk Service, Car Rental, On-site parking Post, Currency Exchange, Hair Dryer, Secretarial Services, Wake up service, Newsstand, Concierge